Jamaican born national hero Marcus Mosiah Garvey was a black activist who created mass movements and changed global black politics forever, especially in the United States of America. His expansive liberations and racial uplifts came to be known as Garveyism, a new groundbreaking interpretation of black politics during the periods of the First and Second World Wars. He created the foundation for his movements in the Universal Negro Improvement Association (UNIA) in Harlem, New York and the millions of supporters he attracted. The Age of Garvey, demonstrates the consequences of Garveyism due to its international presence during the interwar years and beyond. Adam Ewing demonstrates Garvey's ideologies and theories as globally influential opposed to a "view from the prism of american politics". The Age of Garvey explores the rise and fall of Marcus Garvey around the UNIA's development and its help in Garveyism's growth and evolution. In the United States, radicalized Garveyites in UNIA were able to find a stance in which they were shielded from white supremacy and thus allowed to thrive in battles of politics, hierarchical challenges and racial, religious, class and gender identity negotiations. The author seeks to tell the story of the revival of millions of African-American men and women through the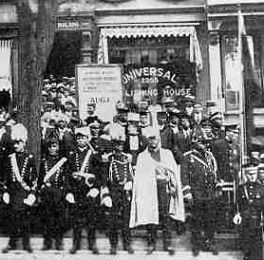 inspirational words of Marcus Garvey to fight back against the humiliation and disempowerment in their lives.
This is a valuable secondary source that congratulates his activism and it provides an deep analysis of the events that transpired around Garveyism's introduction to world by esteemed historians. The book accounts for his mass movements all over the world but I will be concentrating on the specific ones in the United States.  The book explores not only accounts of his triumphant or failing moments, but also the theory and mindset of Marcus Garvey while he did his work and it is this that will compliment my paper.
Ewing, Adam. The Age of Garvey: How a Jamaican Activist Created a Mass Movement and Changed Global Black Politics. Princeton, NJ: Princeton UP, 2014. Print.